Be Your Own Pet @ Melkweg - Amsterdam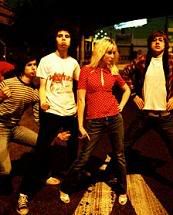 Dato che a Pasquetta sono ad Amsterdam, ho pensato bene di comprare il biglietto per il concerto dei Be Your Own Pet proprio per quel giorno, al Melkweg. I BYOP sono giovanissimi, in quattro, con cantante donna (ragazza) e ci danno dentro con un mix di rock, garage e punk eccitato ed energico.
Per Rumore è disco del mese di marzo (cosa che mi ha stupito molto, visti i precedenti dischi del mese). L'album è dinamite. Una quindicina di tracce che non arrivano mai ai tre minuti e mezzo. Gli EP precedenti ancora più esplosivi, frizzanti e riottosi.
In ogni caso ecco Adventure dall'omonimo album di debutto e Damn Damn Leash dall'EP Damn Damn Leash...

Ci si vede alla spillatrice del Melkweg per una birra e una sigarettina...