Stelle e Strisce. Mica Pizza e Fichi....
... e per di più a
Varese
, no perché in maniera pressoché insospettabile (
eccezion fatta per il nome
)
Lorenzo Bertocchini & The Apple Pirates

è da lì che vengono...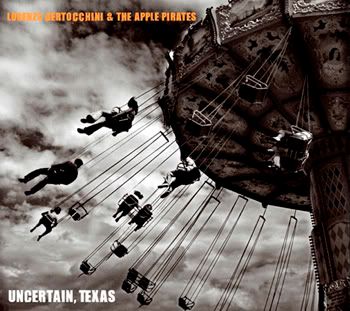 Una gran bella scoperta targata
Ghost PR
che si traduce nel nuovo album
UNCERTAIN, TEXAS
. Prodotto decisamente eclettico, 15 pezzi che spaziano tra vari stili (
Folk Rock, Blues, Country
) e conseguenti atmosfere... Il primo pensiero va al
Boss
(
non quello di qui, ma Bruce Springsteen
) e il secondo ovviamente a
Elliott Murphy
, di cui è amico e con cui ha già collaborato più di dieci anni fa... Album che esce dritto dritto dalla tradizione musicale del
paese degli hamburgher
, non a caso
iTonno
alla colonna "Genere" presenta la dicitura
Americana
, si ascolta che è un piacere non solo perché lui canta e scrive bene, ma anche grazie alle ottime doti musicali dei suoi
socii pirati
; trovano pure il tempo di piazzare un pezzo reggaeggiante ("
Too Lazy
") a cui vanno le mie preferenze insieme a "
Hard Thing To Do
" e "
Perfect
".
È probabile che a voi un disco simile non vi sorprenda più di tanto, per quanto mi riguarda invece (mastico raramente questo tipo di stile musicale e ancor più raro che ascolti della musica italiana) è una incredibile e piacevolissima sorpresa... Sarei curioso di vederli dal vivo...
Tracklist:
1. Everybody
2. Last Clean Shirt
3. Blue
4. You
5. What Do You Hate So Much
6. Too Lazy
7. Walking Out In The Cold
8. Perfect
9. Follow My Steps
10. Rosie, Mary And Tiffany
11. San Secondo
12. Hard Thing To Do
13. My Serenade
14. Time Is Runnin' Out
15. I Am

Myspace:
Lorenzo Bertocchini & The Apple Pirates
Etichette: Lorenzo Bertocchini and The Apple Pirates, music_pusher